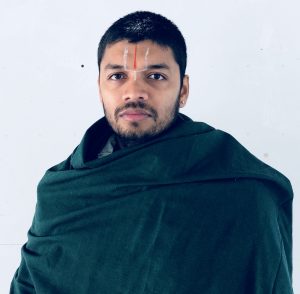 Sri Krushna Balaji Mandir
Main Priest: Santosh Kumar Acharya Samudrala
Contact Number: 732-771-1372
Santosh Acharya have more than ten years of priest experience in performing pooja's in Sai Temple, Vaishnava and Shiva Temples including Abhishekam, Alankaram, Kalyanam, Sudarshana Homam, Rudra Homam etc., Sahasra Kalasha Abhishekam, Snapanothsavam, Dolothsavam, Sahasra Deepalankaranothsavam, Dhanurmasa Seva.
Pooja's / Vratha's:
Ganapathi Pooja, Sudhi Punyaha Vachanam, Aksharabyasam, Annaprasanam, Namakaranam, Upanayanam, Vivaham, Gruha Pravesam, Satyanarayana Vratham, Varalakshmi Vratham, Kedhargouri Vratham, Lakshmi Kubera Vratham, Navagraha Pooja, Shanthi Pooja, Lakshmi Narayana Homam, Lakshmi Ganapathi Homam, Sudarshana Homam, Navagraha Shanthi Homam, Mruthynjaya Homam, Ayoshya Homam, Hanuman Homam, Nakshatra Shanti etc.
All other pooja's outside the temple (Residence of devotees) include but not limited to all Homams, Annaprasna, Aksharabhyasam, Weddings, Nama-Karana, Vratas (Sri Satya Narayana, Vara Laxmi) etc.
He is well versed with Smartham, Pancharatra Agama Sastram and trained at Thirumala Tirupathi Devastanam (TTD) and Nalayira Divya Prabandham JET (Sri Chinna Jiyyar Swamy)
Suggestions and comments please direct to shskendra@gmail.com