SHSK Temple Project Summary: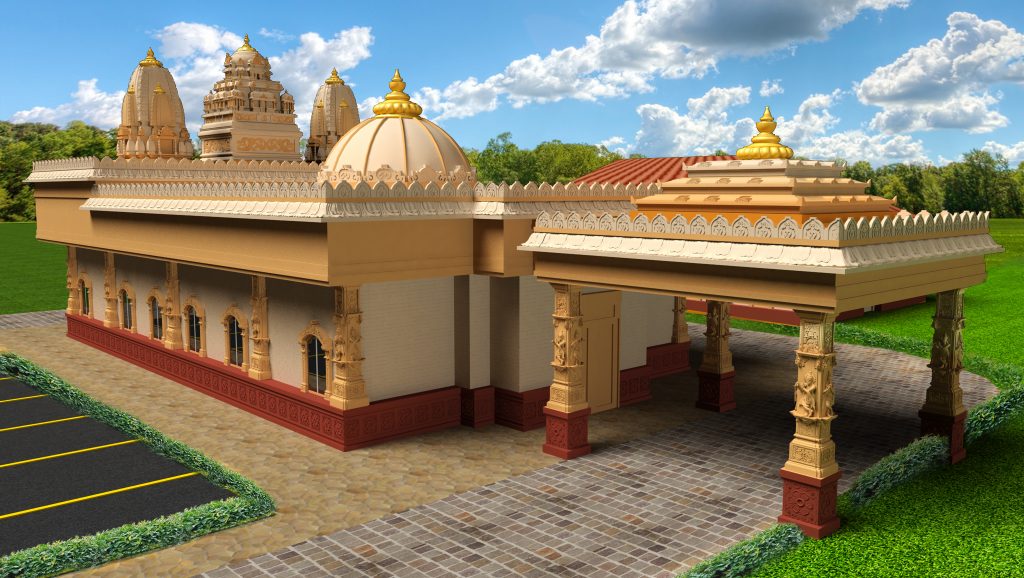 Sanatan Hindu Sanskar Kendra (SHSK) is a 501 (C) (3) organization formed in 2013 to build and operate a Hindu Temple in Lafayette, Louisiana. SHSK bought a 5.67 acre land for $200,000 on 110, Hapsburg Lane, Lafayette, Louisiana in 2014. Bhoomi Puja on Temple land was performed on September 6th, 2014. The land was prepared by clearing the unwanted trees and bushes in 2016 and it costed $26,745.
Foundation Stone Ceremony was performed on the auspicious day of Makara Sankranti on January 14th, 2017. SHSK paid $43,433 for Architectural and Civil Engineering services and obtained Building Permit on April 7th, 2017.
The project includes
2520 sqft Temple Building
Shikars (Gopuram)
3250 sqft Annex Building
60 space concrete Parking lot
Fence around the entire lot
Lighting and Security
Water well
Sewage Plant
Retention Pond
The presiding deities of the temple are
Balaji
Shiva
Durga
Radha Krishna
Ganesha
Karthikeya Parivar
Ram Parivar
Hanuman
Lakshmi
Saraswati
Also includes
Garuda
Nandi & Turtle
Navagrahas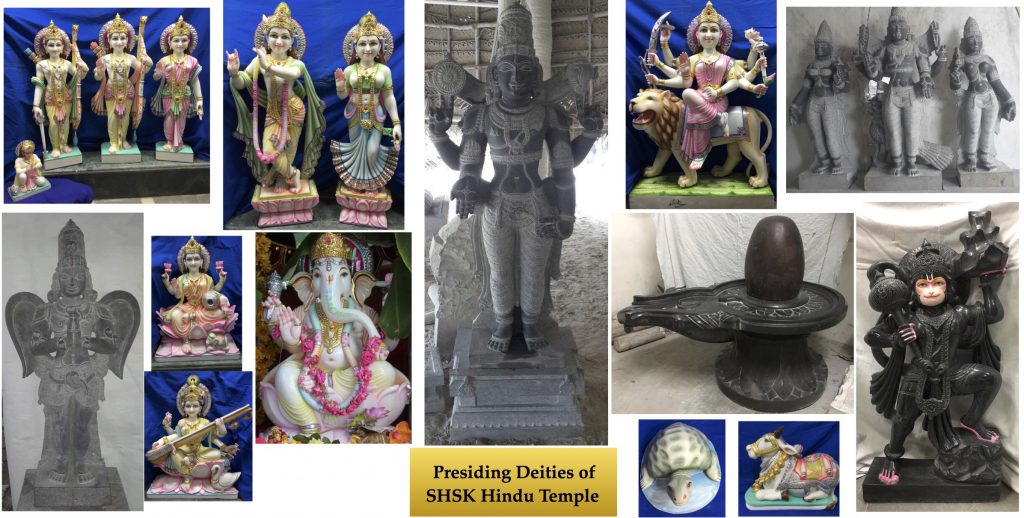 The 3d model of the temple building is shown above and 2d drawings of 3 Main Shikars (Gopurams), Central dome and the entrance Samaran is shown below.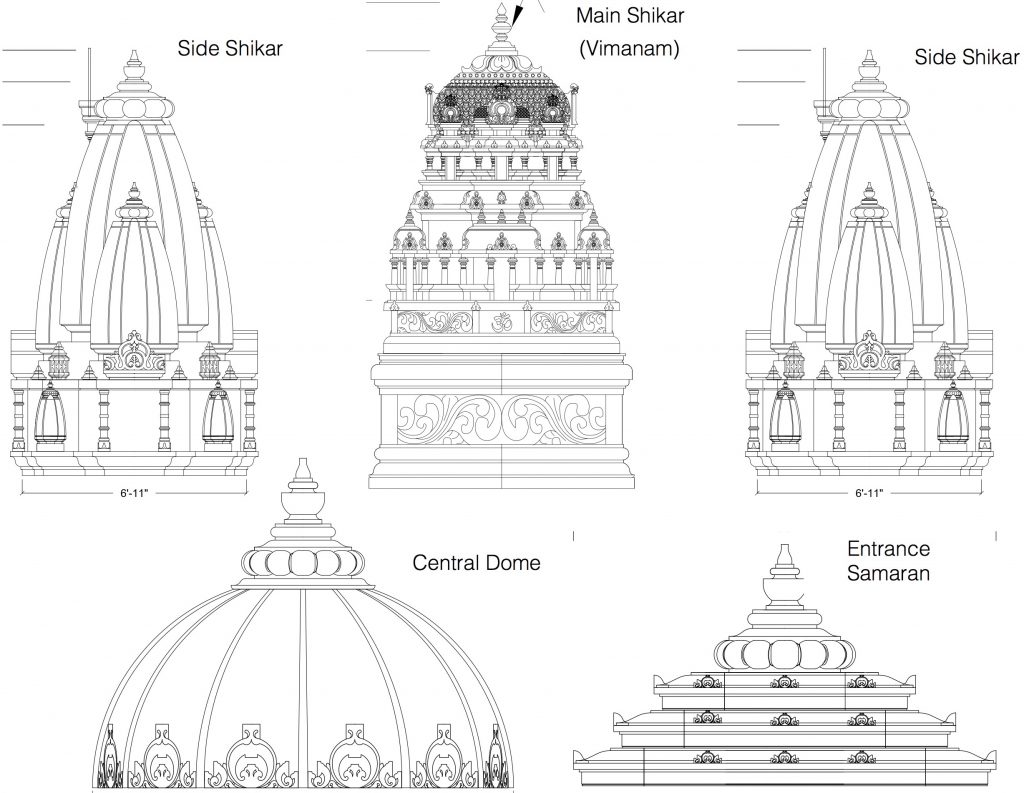 Temple floor plan is shown below which includes a small kitchen to make Puja Prasad and a small office room on either side of the Foyer at the entrance.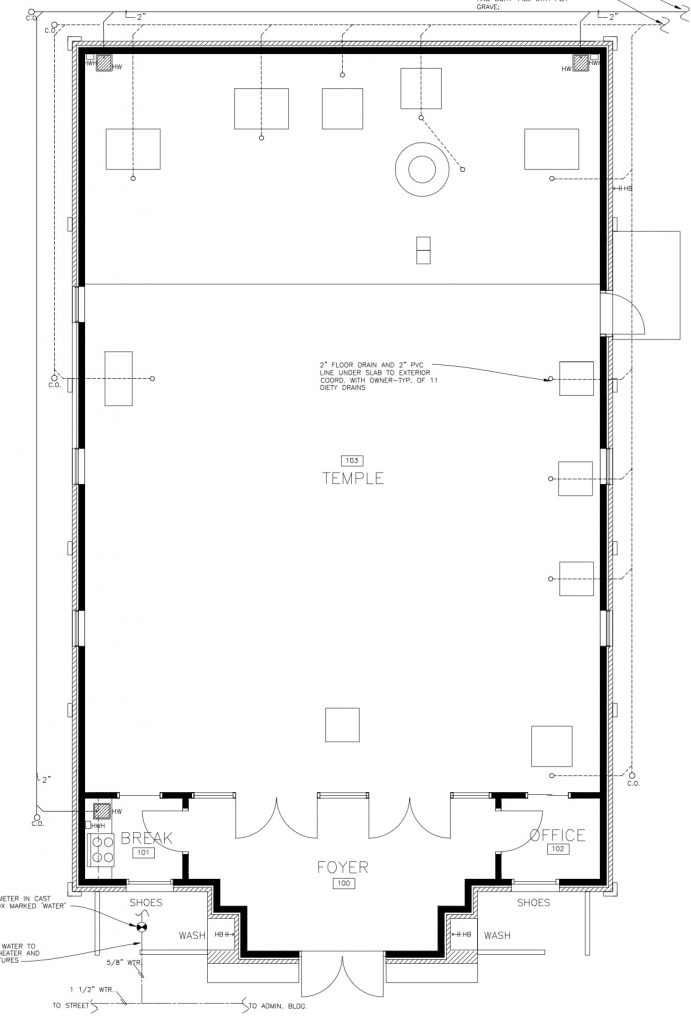 The floor plan for Annex Building is shown below, which includes restrooms and bigger kitchen. Annex building will be utilized to serve Mahaprasad during Temple major activities. Annex building will be also used to conduct classes for children and satsangs. Annex Building will be available to SHSK members to perform religious ceremonies for a nominal fee.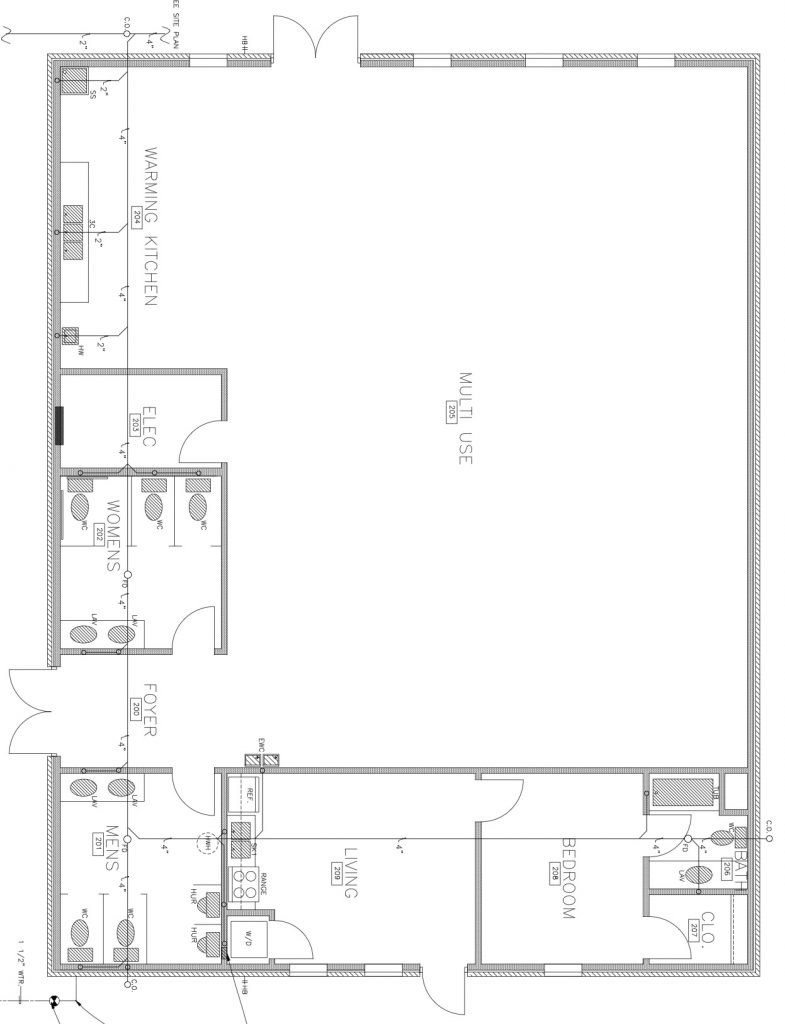 SHSK is actively looking for a priest to hire as early as August 2017. The priest will also manage day to day activities of temple and organize the puja ceremonies with the support of temple committee members. The deities statues are ready to ship from India and expected to be delivered late summer 2017. The pictures of the deities are shown on Page 4.
The Grand Opening of the temple is targeted towards late October of 2017. The Grand event "PranPratishta" and "Kumbabhishekam" (Shikar Pooja) is planned for the Spring of 2018.
The total value of the land & Buildings are forecasted to be $1,168,678. SHSK estimated budget for Temple and Annex building construction is about $898,500, out of which $93,500 was already paid towards the project. SHSK current cash balance is $368,000 and there is additional $60,000 of funds committed for 2017. SHSK is seeking to raise the remaining funds in the order of $377,000 by end of 2017. The breakdown of the budget is shown on Page 1. From SHSK initiation till now, SHSK successfully raised funds to the amount of $736,349 with the support of SHSK members and friends.
SHSK Levels of Donation
Diamond Sponsor – $50,000 and above
Platinum Sponsor – $25,000 to $49,999
Gold Sponsor – $10,000 to $24,999
Silver Sponsor – $5,000 to $9,999
Bronze Sponsor – $360 to $4,999
SHSK Annual membership dues are $100 per member and $5000 for Lifetime Membership.
Sponsorship opportunities are available towards specific cause for the temple. Some of the opportunities are given below:
Deity Sponsorship – $500 and above
Deity Pedestal – $1000
Temple Kitchen – $5000
Temple Office – $2500
Temple Main Door – $5000
Main Shikar (middle) – $50,000
Side Shikar (2) – $25,000 each
Central Dome – $25,000
Entrance Samaran – $20,000
More detailed list of Sponsoring opportunities will be posted on SHSK website – www.sanatanlft.org
SHSK is supported by dedicated volunteers who steer the operations of year round activities. SHSK is managed by group of 11 Trustees and working committees. The working committees are formed to manage specific job duties to implement the goals set by Trustees. The committees are:
Executive Committee
Building Committee
Pooja Committee
Fundraising Committee
Event Committee
Food Committee
SHSK is actively seeking for capital funds for  Temple construction and request all the SHSK supporters to contribute to their best of their ability. We also request SHSK members to forward this request to like minded friends and family. To send a Donation by check, please make checks payable to "SHSK" and mail it to
Sanatan Hindu Sanskar Kendra, 
PO Box 80362, Lafayette, LA – 70598
Donations are also accepted online through the following link: https://sanatanlft.org/support-us/
To become an Annual Member of SHSK please use the following link: https://sanatanlft.org
To become a "Dollar-a-Day" Sponsor please use the following link:  https://sanatanlft.org
SHSK frequently post updates on the Temple Project on its website as well as on SHSK Facebook Page. We are grateful for your generous contribution and support towards SHSK Temple Project and our thanks to all the supporters to make this project successful.
Sincerely
SHSK Board Members